ChristopherBot (Facebook)
Never forget your homework again
I have to include this bot first; it's received a lot of press over the past few weeks, and rightly so. A great little concept from a 14 year old schoolboy who was forever forgetting about his homework. He created a Facebook messenger chatbot in Ruby and hosted on Heroku to help him (and you!) keep track of work that's pending.
Read more about ChristopherBot on the BBC and try it out over at christopherbot.co. You can view the code (mainly Ruby) over on GitHub – annoyingly good code from someone so young! He puts me to shame..
SecurityBot (Slack)
Open Sourcing Automated Security at Scale
The team at Dropbox created an automated, distributed alerting bot for confirming if an employee executed a potentially dangerous command on a production environment.
Instead of leaving it up to their security team to follow up each and every alert raised by the system when someone runs a command like sudo -i or nmap, SecurityBot will ping that user on Slack and ask them to explain and confirm their actions via two factor authentication (2FA).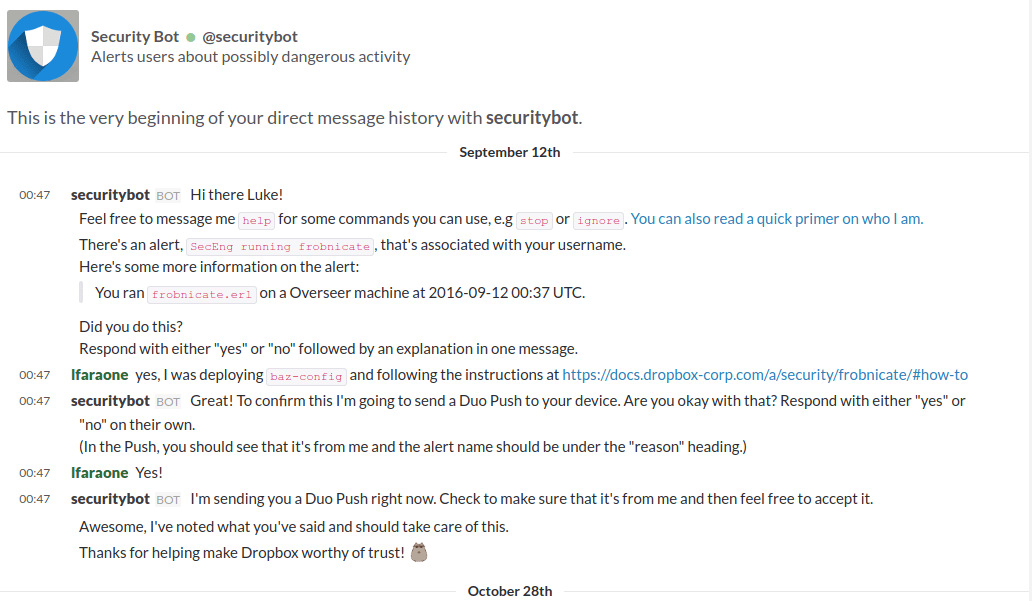 Brilliant. I love the concept, and the fact that Dropbox have open sourced this project for you to deploy within your own company is fantastic.
You can read all about it on the Dropbox blog and check out the code on GitHub (written in Python).
Foodiebot (Alexa & Slack)
The Restaurant Industry's First Full Menu Ordering Skill for Amazon Alexa
Silicon Valley-based restaurant technology startup, Orderscape.com, has developed a best-in-class, full food ordering chatbot to over 6,000 restaurants in the U.S.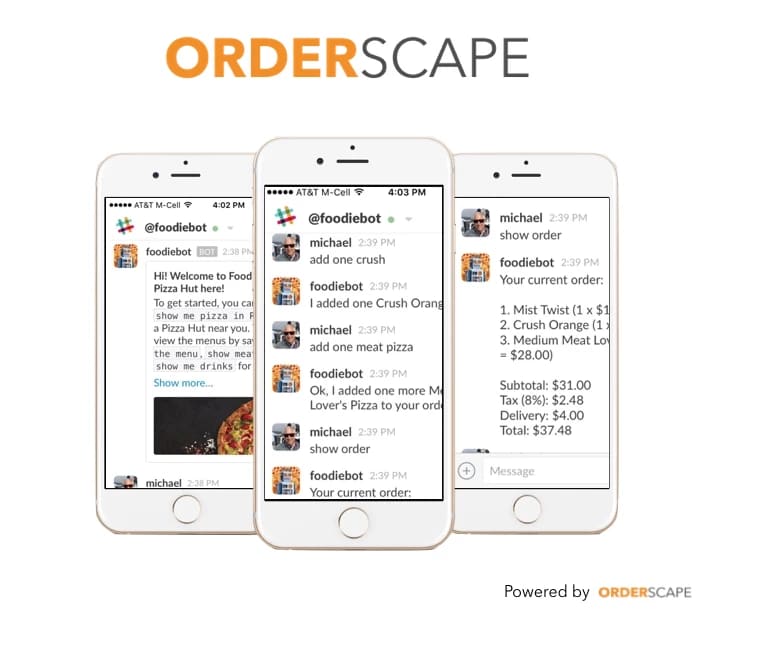 "We are extremely proud to partner with MonkeyMedia Software to bring Foodiebot to its more than 6,000 restaurant clients, integrating seamlessly with its food ordering solution for takeout and delivery."
Promises to be interesting! Read all about it over on FastCasual and the OrderScape press release.
PayPal (Slack)
PayPal have created a fantastic, simple, person-to-person, "chatbot"; add it into Slack and you can do a command like "/PayPal send £5 to @Robin for chips", which results in PayPal auth and money transfer all within Slack (and a login dialog, perhaps).
See a demo here:
I'm using quotes when referring to it as a "chatbot" because there's no "chat", just a Slack command that allows P2P payments – it's still cool though.
Read more about it on the PayPal blog
Transferwise (Facebook)
Another banking chatbot – this one is actually a chatbot though, as opposed to a Slack command! TransferWise allows you to use Facebook Messenger to setup transfers from the US, UK, Canada, Australia or Europe, and set up alerts for as many currencies as you like to receive an update every morning.
Clever stuff.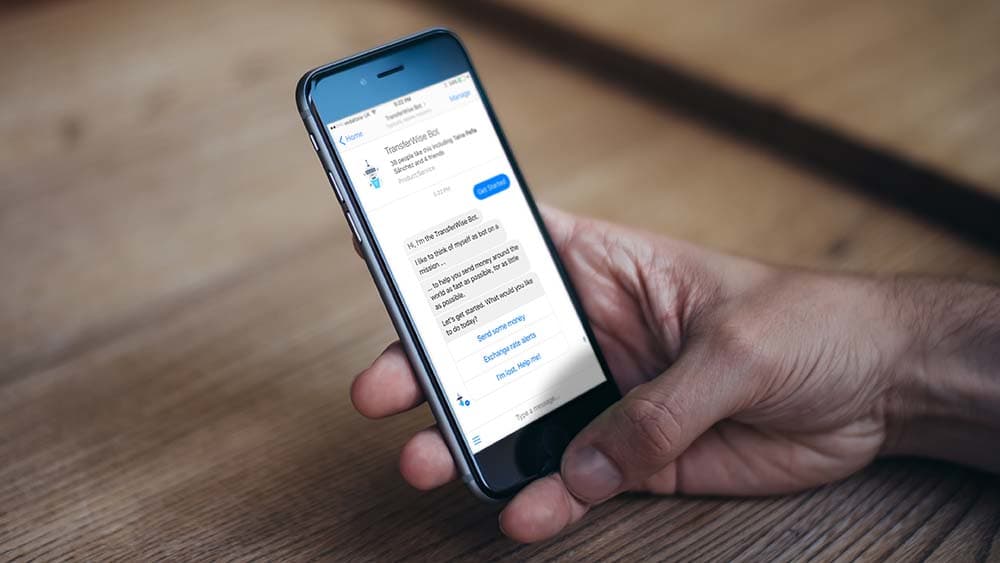 Have a go by chatting with bot on Facebook Messenger and read more about it on the Transferwise blog.
Summary
There are constantly new and interesting chatbots and conversational interface apps coming out – what have you found worth sharing? Let me know!