Recently I completed the 10 year anniversary Palace to Palace cycle ride for The Prince's Trust; a 45 mile "Classic" (or 90 mile "Ultra" if you're crazy) route from Buckingham Palace, along the north side of the Thames, through Richmond Park, and out of West London, through Surrey, and in to Windsor.
The Night Before
Realising that although the ride itself would be in daylight, it wasn't until the evening before the ride that I realised I'd be riding to the start line in the dark; and none of my lights worked.
A late night wander around West London promptly ensued to every newsagents and corner shop I could find, trying to rustle up a few of those little round batteries; everywhere I went seemed to have sold out! I was a long walk and a late evening before I got home, batteries in hand.
Tip 1: Check your lights and stock up on batteries well in advance..
The Big Day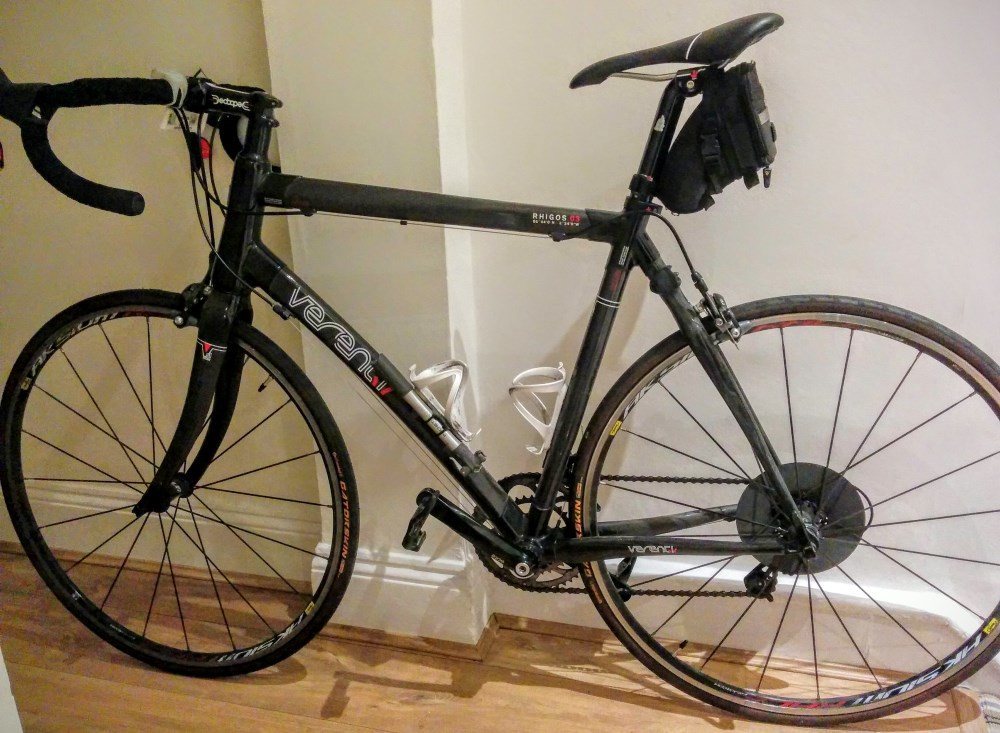 Previous years I'd wake up and make banana porridge to give me a good start to the day; unfortunately it was always far too hot to eat before I'd have to leave, so I was running on empty before the day had even started!
I found that the same ingredients – plus a few more – could be made into something much more easily consumed on the morning of the ride: a smoothie.
A couple of handfuls of oats, a banana, some frozen berries, and a spoon or two of some sort of nut butter (peanut, cashew, that sort of thing); whizz it in a blender and pop it in the fridge overnight – you can just down it in the morning whilst pulling on your lycra!
Tip 2: Banana + frozen berry smoothie, not porridge
Leaving my house before 6am on Sunday morning, in the dark and the cold, I had a fantastic ride through central London with barely another vehicle around.
I took a few blurry photos whilst riding along my route to the start line; The Royal Albert Hall, Prince Albert Memorial, The Ritz, and Trafalgar Square – all beautiful in the early morning light.
Stopping off for a quick banana at Trafalgar Square, I was ushered through as one of the first waves of riders heading off that morning.
The whole process was much improved by their investment in some minor tech improvements; instead of barcodes on a bib which has to be manually scanned, each rider had a chip attached to their bike which automatically registered when crossing the start line. A totally effortless and smooth start to the ride!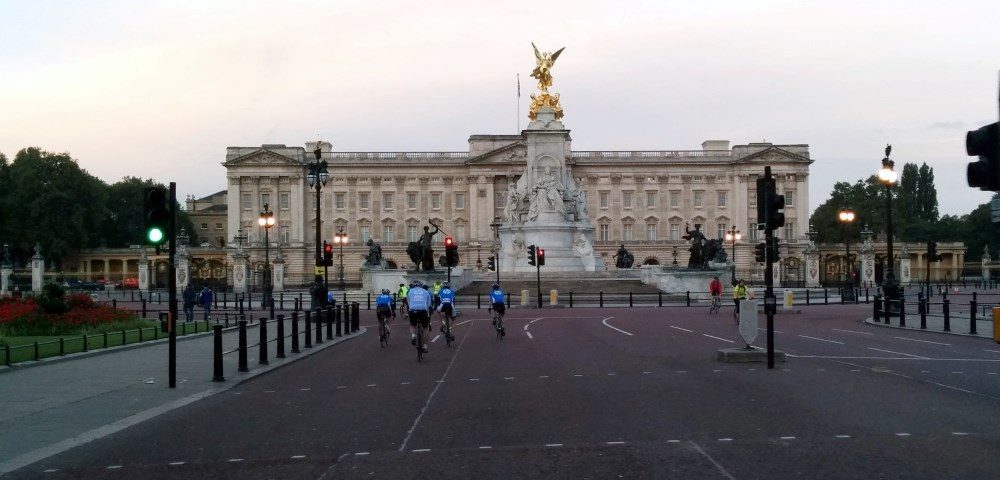 Getting a move on
I tucked in behind a group of riders from HP who were really well organised, having obviously done group rides before and knew how to ride in a peloton style, tucking in to slipstream and switch the leader to keep legs fresh and the speed up.
I wasn't strong enough to help out so continued to be a parasite until close to Richmond Park where they lost me at some traffic lights!
On the way into the park I tucked in behind one guy going at an incredible pace; I even achieved a personal best for the long road leading into the park, according to my MapMyRide log.
I couldn't believe how fast this guy was going and wondered how on Earth he was planning to keep this pace for the rest of the route. Then he entered the park and turned left when the course route was on the right – he was just a bloke out for a fast morning ride, nothing to do with Palace To Palace. So now I've used up a load of energy going way too fast, way too soon!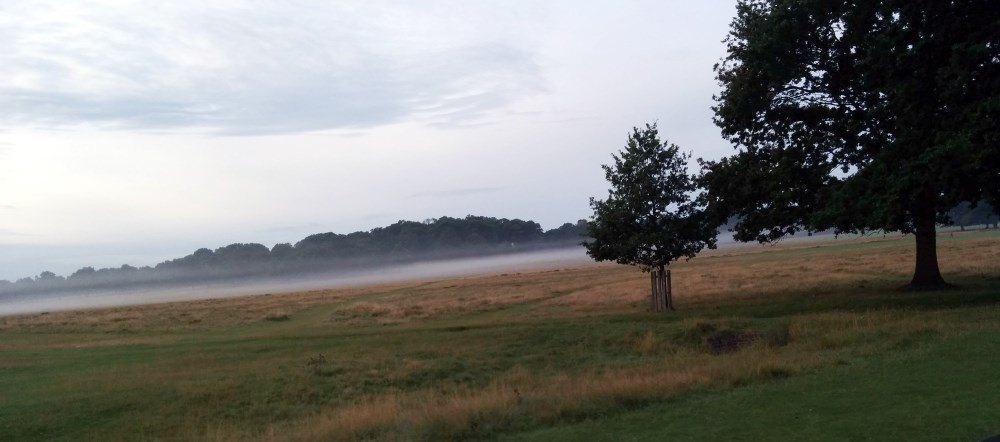 Shortly after the park I caught up with a few other groups of earlier riders who had been getting held up at traffic lights, so decided to be a parasite again (ONE DAY I'll be fit enough to tow people along and contribute to the peloton, honest!)
This time it was a bigger team from Unit (I think) who had the pleasure of my parasitical company for quite a long way – a good speed for a long distance. I thought I'd break some sort of record if I could keep up with them!
ULTRAMEN
Halfway through, however, it turned out that all of these really fast groups were doing the Ultra (90 mile) route, and not the Classic (45 mile); they turned left and I turned right – I had been dragged well in front of most of the other Classic riders!
The next few miles were quiet, as no-one else was around – neither in front nor behind. I ended up just messaging mates and taking photos; then the pain started.
My legs just gave up 3/4 of the way in! I ended up in my lowest gear, weaving across deserted roads in an attempt to reduce the gradient!
Fuel
I had decided to put my faith in SCIENCE instead of training!
I bought a load of gels and soluble energy drinks; my two bottles were brim-full with bright pink (possibly glowing, couldn't rule it out) sharp-tasting liquid thanks to this stuff: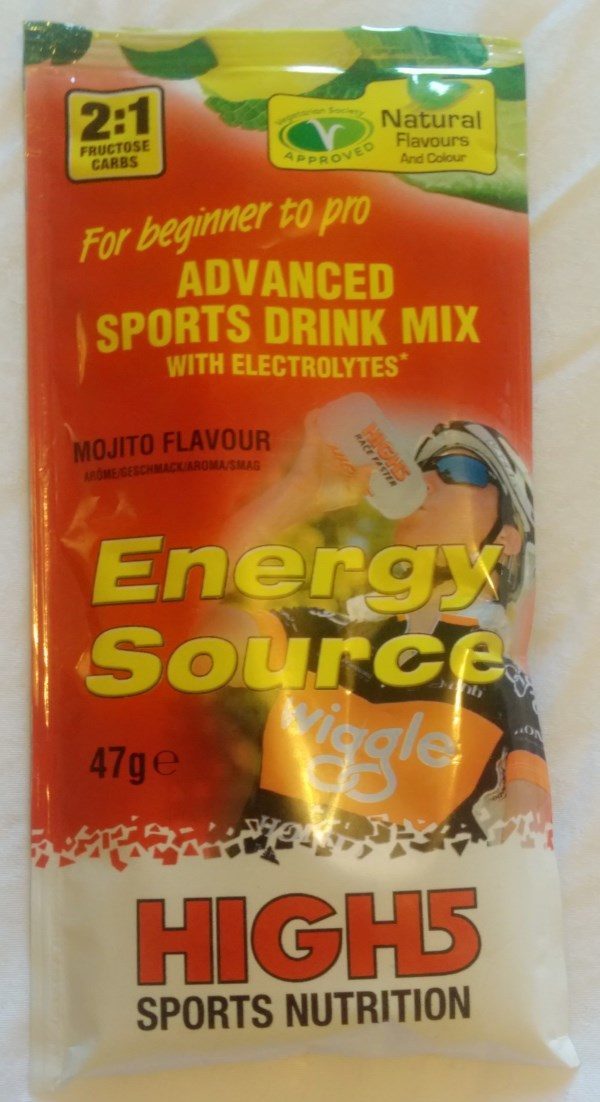 It kept me going, and I never felt dehydrated throughout the whole ride. Not sure about the mojito flavour one though (decided against using that one).
Every half hour I decided to top up my carbohydrates using one of these gels with added caffeine; this particular one tasted ok, was quite thick, and didn't make me want to puke. Might even have helped me in some way.

The same cannot be said for this one. More like a juice than a thick gel, it was meant to be all isotonic and caffeinated, and glide down your throat making you powerful like a champion; instead it made me gag – mid power-overtake-manoeuvre – and I've no idea if it helped at all.

In the end I think the water, bananas, and Snickers helped more than those gels.
However, it did all come in one massive, cheap, pack – with a free bottle!
Tip 3: Don't trust in The Science too much; train too.
Nearing the Finish!
Only on my first Palace to Palace had the route actually taken the same one as this year; riding straight up towards Windsor Castle! Other years you skirt the castle and end up on busy main roads – not much fun.
I love the organisers for letting us return to the route that gives you this view, and for changing the last mile or so to use almost entirely quiet back roads.
Thanks to the race chip, as soon as I crossed the finish line I received a congratulatory text with my confirmed race time! I loved this touch!

Tech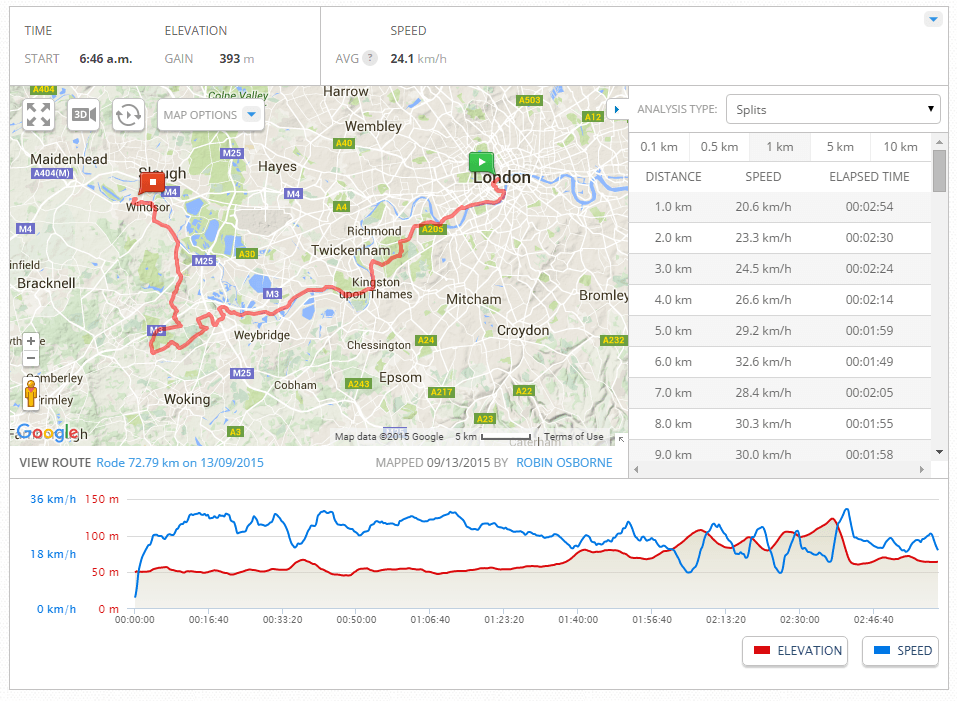 My Ride was mapped with MapMyRide+, and my phone was recharged after the race with a smallish Anker Astro E1 USB battery
THE END
So, this was a great event – as per usual. Enhanced by some tech (the race chip), an improved route, and me being all parasitical for at least half of the ride..
Everyone's times were made available very soon after the event finished too. I'm #1002, in case you're wondering.
Tip 4: Donating to me will mean you receive a bag of freshly ground coffee delivered to your door the next day for a mere £1!