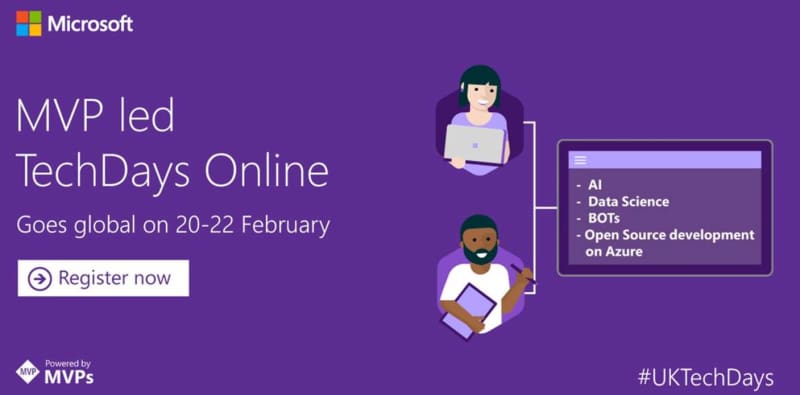 On February 20th to 22nd you'll be able to join MVPs like me at the 3 day online conference UK Tech Days Online.
This is a chance for MVPs to talk about some of the cool new MS tech that's out there, show you how to use it yourself, and give a few case studies. This year it's all about AI, Bots, Data Science, and Azure OSS – awesome stuff!
Since I'm not able to attend this on the day of the event, my fellow Bot MVP, Gary Pretty, will be accompanied by the talented James Mann (no doubt a Bot MVP in the next round of awards!) for a couple of sessions on Day 1 all about BotFramework, LUIS, and the various features and tooling around that ecosystem.
So that you don't miss out on my handsome visage (!), I'm pre-recording a short session at Microsoft over the next couple of weeks, which will hopefully be played here and there throughout the conference, where I give a very brief case study for the JustEat Help chatbot; it'll be a tasty Bot infomercial snack – don't miss out!
Full Schedule
20 February 2017
10.00am: Data, data, data – How and where to store it on Azure?
11.00pm: Conversational UI using the Microsoft BOT Framework
12.00pm: Microsoft Bot Framework and Cognitive Services: Make your BOT smarter!
1.00pm: The best kept secret, Document DB.
2.00pm: Let's discuss Server-less.
3.00pm: Keynote: Dr Mike Rys What is an Azure Data Lake?
21 February 2017
10.00am: Creating a PHP-MySQL web app in Azure App Service and deploying using FTP.
11.00am: Gain profit from Azure app service tooling as an OSS developer.
12.00pm: Dockerizing Your Cross-Plat .NET Development.
1.00pm: Communication Driven Development.
2.00pm: Monitoring Linux in Azure with Microsoft Operations Management Suite Log Analytics.
3.00pm: The Open Source World of Xamarin.
22 February 2017
10.00am: Bootstrapping blockchain.
11.00am: How IOT and data is changing lives.
12.00pm: An introduction to Quantum Computing.
1.00pm: Social Scientist Professor Bradley Love from University College London and the Alan Turing Institute
2.00pm: Microsoft Regional Directors panel.
If this whets your appetite for nerd knowledge, pre register now at https://aka.ms/uktechdays2017